Mason City (Iowa) High School
Class Of 1961

50th Announcement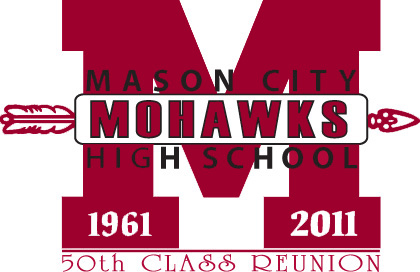 Dear Classmates:
It's amazing to think about it. Fifty years ago the mornings meant that we were thinking about the upcoming day and we still remember some of our thoughts. Maybe there was a big test in Mr. Moore's math class. There was a basketball game that night and there was always a Hoosman on the East Waterloo team. Today it was my turn to give a speech in Language Arts.
And then there were our friends. We spent the day seeking each other out. We remember their names, their voices, and their secrets. And even today, fifty years later, we are instantly comfortable with those people who shared those three years with us at MCHS. Our three years together represent about four percent of our lives; but, I'll bet our memories about those three years are a much larger percentage.
So, it is finally here, THE BIG ONE! Come join those of us still in the Mason City area on the weekend of September 16-18 for the Fiftieth Reunion of the MCHS Class of 1961. As in the past, we will gather at Music Man Square on Friday night for an informal evening of registration, hors d'oeuvres, conversation, and memories.
On Saturday evening we will enjoy a buffet meal, a program of sorts, and more memories. (By the way, dessert after the meal will be homemade pie made by one of our classmates.) We will also plan on group pictures to be taken on Saturday night. And on Sunday, we will enjoy a brunch together so we can make plans to stay in touch again until the next reunion.
If we have your email address, you received a registration form with the specific options and costs. (Please notice that the costs are the same as they were for the 45th Reunion!) In the same email you also received a questionnaire that will be used for the Reunion Book content.
A small group of classmates from the Class of 1961 have been meeting for coffee, breakfast, and conversation for about two years. We've enjoyed one another's company and, of course, we've shared those important memories we all have about our high school days. On the side, we've tried to plan a reunion that will allow all of us to enjoy each other once again. If you need a reason to celebrate your life, then the 50th Reunion of the MCHS Class of 1961 is a spectacular chance.
Come join the celebration!

Robert C. Miller and Members of the Reunion Planning Committee
---
| | | |
| --- | --- | --- |
| | Thanks to classmate Bob Peterson for designing the logo for our 50th reunion. Bob is a graphic artist and is currently living in Cedar Rapids, Iowa. | |
SCHEDULE
Friday and Saturday events will take place at
Music Man Square, 308 S. Pennsylvania Ave.

FRIDAY, SEPTEMBER 16 — Streetscape
5:30 p.m. — Registration Starts
5:30 p.m. — Cash bar opens
6:00 p.m. to ? — Hors d'oeuvres
Share memories until closing time at 11 p.m.
SATURDAY, SEPTEMBER 17 — Streetscape and Reunion Hall
5:30 p.m. — Registration for anyone not yet registered
5:30 p.m. — Cash bar opens
6:30 p.m. — Buffet Meal in Reunion Hall
Program following dinner
Group Pictures
Talk, Talk, Talk until closing time at 11 p.m.
SUNDAY, SEPTEMBER 18
Brunch — Time and place to be announced